SANTA CRUISE 2019 SUNDAY JUNE 30TH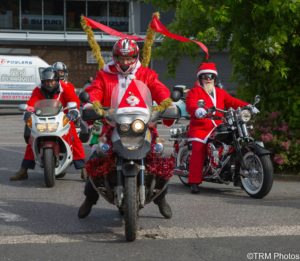 Can't wait for the December rides? Then come and join us on the Summer Santa Cruise to Little Bridge House Childrens Hospice South West in Barnstaple.
Suitable for all bikes, trikes and scooters with rides starting in Bristol, Taunton and Exeter, converging on the children's hospice at Fremington (Barnstaple).
So put on your best "summer santa" outfit and come and spread some Christmas joy to those who need it the most.
Can't make the run? Why not donate online at http://uk.virginmoneygiving.com/team/SantaCruise1
For the latest updates and route information, please join the Facebook group.
Fowlers Bristol to Taunton (1hr 50) via Wells & Glastonbury
Leave Fowler's 08.45 arrive Taunton 10.35
(30 min re-group meet Taunton group)
Leave Taunton 11.00 arrive log cabin 12.20
Taunton to log cabin (1hr 20)
15 minute rest at log cabin
Leave cabin 12.35 arrive William Hockin 13.40
Log cabin to William Hockin (50min)
(35 min re-group/meet Exeter group)
Leave William Hockin 14.15
Barnstaple main ride to hospice (45 min)
Arrive at Hospice 15.00 Hand over money and smiles
— — — — — — — — — — — — — — — — — — — — — — — — — — — — — — — — — — — — — — — — — — — — — — — — — — — — — — — — — — — — — — — — — — —
EXETER TO BARNSTAPLE
Bridge motorcycles to Kings Arms Winkleigh (1hr)
Leave Exeter 11.25 arrive cafe 12.25
30 minute rest at Kings Arms
Kings Arms to William Hockin Barnstaple (45min)
Leave cafe 12.55 arrive William Hockin 13.40