Please contact Oli Allen for all queries – bristol@santasonabike.org.uk or 07706596130.

For the main ride to Charlton Farm children's hospice please aim to arrive at Dick Lovett BMW Motorrad at Cribbs Causeway (BS10 7TU) before 12:00 midday. Free refreshments will be available and we aim to depart at 1pm. If you need a Santa suit, we'll have some available for a suggested donation of £10.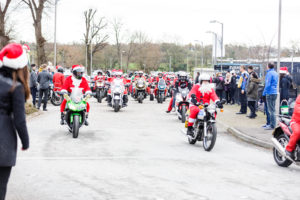 We'll once again be riding to the children's hospice at Charlton Farm via Bristol city centre. All bikes, trikes and quads are welcome, and the ride is fully L plate friendly. Don't worry if you've not attended a group ride before, you'll be made very welcome and all junctions will be marshalled, so you can't get lost and there is no need to try to "keep up" with the person in front!
DONATE ONLINE HERE! There is no charge to attend the ride but all donations are much appreciated, and 100% of money donated goes to Children's Hospice South West. We'll have collecting buckets available on the day for people who prefer to donate cash!
Routes and Timings
Main Ride
This ride will be fully marshalled, so you won't get lost!
Please aim to arrive in plenty of time to park your bike and enjoy a complimentary hot drink, ready to depart at 1pm. Most people aim to arrive around 12:00.
Look out for our raffle elves and buy a ticket before you leave to win some great prizes! Kindly supported by:
Leave Dick Lovetts at 1.00pm turning left onto Cribbs Causeway (A4018) straight over Crow Lane roundabout following A4018 onto Falcondale Road continue A4108 to White Tree roundabout, across the Downs to Blackboy Hill and down White Ladies Road, through the Triangle turning right down Park Street. Past Bristol Centre to The Bearpit roundabout, left and past Bristol Children's hospital and on to Hotwells over Cumberland basin onto Brunel way turning left to the Long Ashton Park and Ride. We will re-group in the Long Ashton Park and Ride before continuing along the B3128 Clevedon Rd to the Children's Hospice at Wraxhall for 2.15pm.
Some riders like to meet up before the main event and ride in together from their local area. Please find details of some of these meeting points below. All are welcome to join them:
Bridgwater Ride In
Meet at McDonalds at 9.00am for a 9.30am prompt start.
Travel up the A38 to Highbridge railway station car park, driving through at 9.45am
Travel up the A38, turning on to the Weston Super Mare road at the East Brent roundabout meeting at the Victoria cafe on Weston sea front at 10:30am.
Weston Super Mare Ride In
Meet at 10:30am at the Victoria Cafe on the sea front to depart at 11:00 collect on A370 lay-by for 11:10 arrive at Dick Lovetts for 12:15.
Travel along the toll road turning left in Kewstoke and following the signs to Bristol going out through Worle on the Queens road passing over junction 21 of the M5 and onto the A370
Pick up from the lay-by on the left 300mtrs after the junction at 11.10am.
Continue along the A370 onto the Long Ashton by-pass and at the end of the by-pass and proceed along the Cumberland Basin and onto the Portway turn right to go up to the downs follow the signs for Cribbs Causeway/M5 getting to Dick Lovetts for 12:15.
Trowbridge/Frome Ride In
Meet from 9.30 am at the BP petrol station at Beckington. Leaving at 10:00am to head off to the Globe, Newton St Loe and meet up with the riders from Bath.
Bath Ride In
Meet at the Globe, Newton St Loe, Bath from 10.15 and be joined by the group from Frome and Trowbridge. Depart 10.45 am to Hicks Gate roundabout where you take the A4174 ring road to Filton then onto Dick Lovetts for midday
Cinderford Ride In
Meet in Cinderford at the Rugby Club at about 09.00 – 9.15am with a leaving time of about 09.30am, ride to meet the Gloucester group at Stonehouse Starbucks next to A38/M5 Stroud junction (GL10 3SQ).
Gloucester Ride In
Meet at the Stonehouse Starbucks near the M5/A38 junction (GL10 3SQ) from 10.30am leaving at 11.00am and arriving at Dick Lovetts for 12:10.
Wales Ride In
Meet from 10am at CMC Motorcycles, Newport (NP19 4SP), ride across the M4 Severn Bridge to Junction 20 for the M5 (for Bristol). Leave M5 at Junction 17 and follow A4018 to Dick Lovett BMW Motorrad (BS10 7TU).
Fowlers Breakfast Meet/Ride In
Meet at Fowlers from 9am. All Santas (plus elves, reindeer, snowmen and anybody else dressed up for the ride!) can enjoy a half price standard breakfast in Harry's Cafe.
Ready to depart by 11:30 to join the main ride at Dick Lovett for mid-day.
FAQs
What happens on the day?
Last year we had around 870 bikes, most dressed as Santa – with a few snowmen, elves etc!
We ride together through Bristol – don't worry about getting lost, there will be a marshal at every junction to point you in the right direction to the Children's Hospice at Charlton Farm, where we deliver the money raised and a good helping of Christmas happiness to the children and families who need it most.
Is there a ride in from my local area?
There will be smaller rides from Bridgwater, Weston Super Mare, Trowbridge/Frome, Bath, Cinderford and Gloucester aiming to meet up with us ready for the main event. Further details below. If you're interested in leading in a ride from elsewhere, please email bristol@santasonabike.org.uk and we'll update this page with details.
What do I need to bring? Can I take a present for a child?
To avoid anything going to waste, we'll only be delivering presents for named children at the hospice with specific requests. If you'd like to buy something then please contact Oli (bristol@santasonabike.org.uk) and we'll let you know when we have a list.
Other than that, you just need yourself and a road legal motorbike. Any donations to Children's Hospice South West are much appreciated, and we'll have collecting buckets available on the day.
Can I get sponsored?
Absolutely. Why not ask your friends, family or work colleagues to sponsor you in advance of the event? Contact bristol@santasonabike.org.uk for a sponsorship form, which you'll be able to hand in on the day of the ride.
Do I need to pre register?
No need to pre-register, just turn up on the day! Facebook users can join our group which will help us get an idea of numbers, so we can make sure we bring enough mince pies for everyone!
Any other questions?
If you have any other questions about the Bristol ride then please email bristol@santasonabike.org.uk and we'll be happy to answer them!
2016 Ride
Thank you to all the staff at Dick Lovett for hosting our starting point, the team at Children's Hospice South West for welcoming us to Charlton Farm, all the marshals and companies who donated raffle prizes – and of course the riders who joined us on the day for a fantastic ride through Bristol!
Matt from Clearly Bespoke Photography was there on the day to capture some great photos of all the bikes and their riders who attended – you can download high resolution versions free of charge at http://www.clearlybespoke.com/Your-Photos/Your-Events/Santas-on-a-Bike-2016/. If you'd like to say thanks to Matt for providing them, please consider making a donation to Children's Hospice South West on behalf of Santas on Bike.
And we couldn't have done it without the support of the organisations below: